Successful Online Learning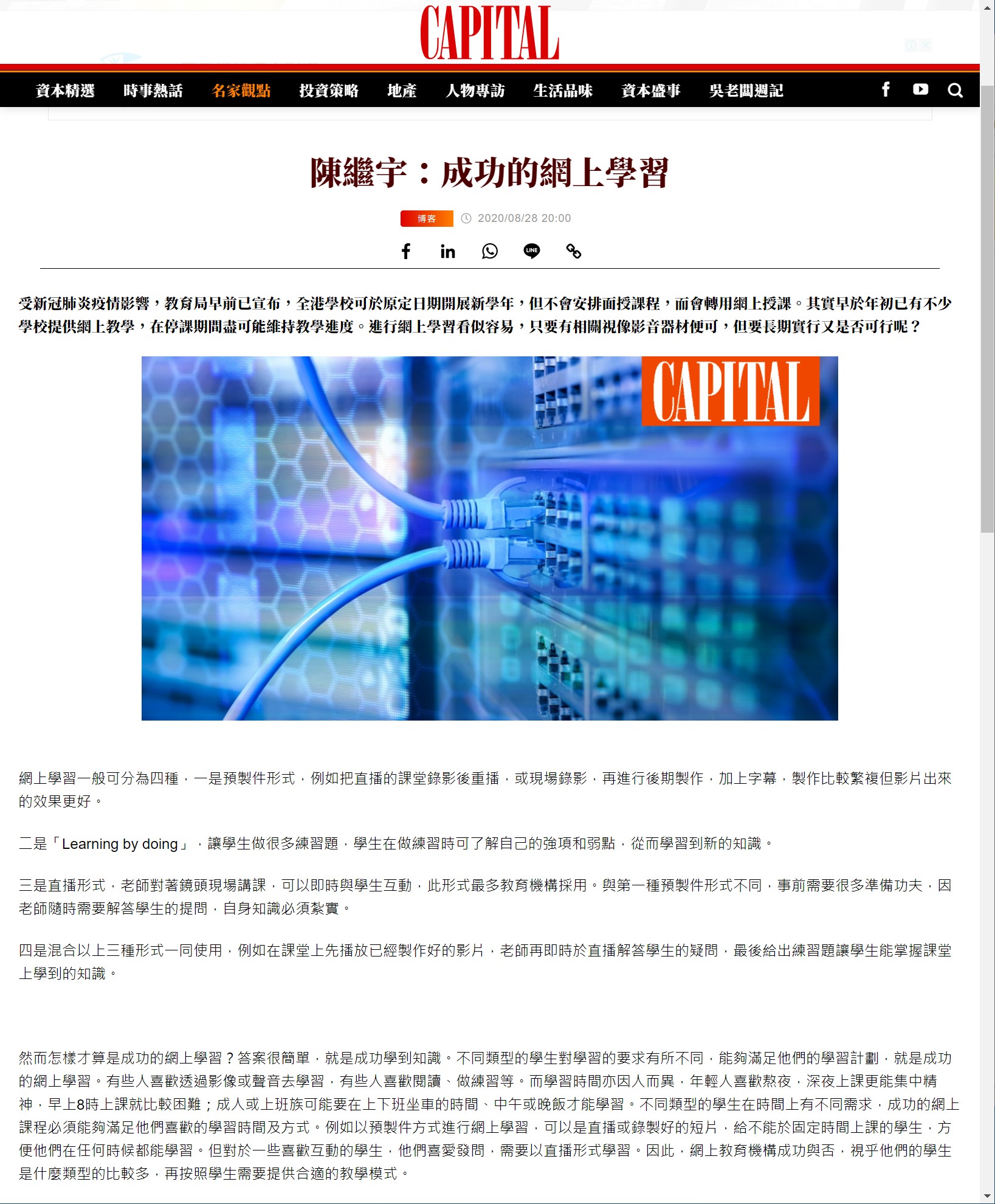 Affected by the new crown pneumonia epidemic, the Education Bureau has announced earlier that all schools in Hong Kong can start the new school year on the original date, but will not arrange face-to-face courses and will switch to online teaching. In fact, many schools offered online teaching as early as the beginning of the year, and kept the teaching progress as far as possible during the suspension of classes. It seems easy to conduct online learning, as long as you have relevant video and audio equipment, but is it feasible to implement it for a long time?
Online learning can generally be divided into four types. One is the pre-production form, such as replaying a live classroom video, or on-site video recording, and then post-production, plus subtitles. The production is more complicated, but the effect of the film is better.
The second is "Learning By Doing", which allows students to do a lot of exercises so that students can understand their own strengths and weaknesses while doing exercises, so as to learn new knowledge.
The third is a live broadcast format. Teachers can talk to the camera on the spot and interact with students in real time. This format is used by most educational institutions. Unlike the first form of prefabrication, it requires a lot of preparation beforehand, because teachers need to answer students' questions at any time, so their own knowledge must be solid.
The fourth is to mix the above three forms together. For example, in the classroom, the film that has been made is first played, the teacher will answer the students' questions on the live broadcast, and finally the exercises will be given so that the students can master the knowledge learned in the classroom.
But what counts as successful online learning? The answer is simple, it is to successfully learn knowledge. Different types of students have different requirements for learning. To meet their learning plan is successful online learning. Some people like to learn through images or sounds, and some like to read, do exercises, etc. The study time also varies from person to person. Young people like to stay up late. Late night classes are more concentrated. It is more difficult to go to class at 8 in the morning. Adults or office workers may have to travel to and from get off work, noon or dinner to study. Different types of students have different needs in terms of time, and successful online courses must be able to meet their preferred learning time and method. For example, online learning in the form of prefabs can be live broadcast or recorded short videos for students who cannot attend classes at a fixed time so that they can learn at any time. But for some students who like to interact, they like to ask questions and need to learn in the form of live broadcast. Therefore, the success of online education institutions depends on the types of their students, and then provide suitable teaching models according to the needs of students.